Oct, 25, 2016
Don't EAT All That Candy!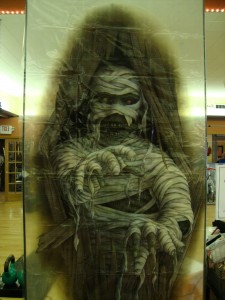 So fit pros….how many of your clients will be dipping into the Halloween candy more than they should? Almost all of them huh? Maybe you are guilty too 🙂 I know I have a hard time staying away from all of the sugar this time of year, but if I remember these tips it makes it a little easier for me, my kids and my clients. Share with your clients before Monday and happy Halloween!
Eat Before You Trick or Treat:
If you have dinner before you head out to trick or treat, you'll be full and less likely to munch while you go..
Trick or Treat & Move Your Feet:
It's a positive thing that Halloween gets families outside and walking their neighborhoods so ask yourself, how can you add more movement to your Halloween holiday? Schedule an outing to the Pumpkin Patch and walk the maze, search long and hard for the perfect pumpkin and participate in all the active options.  Can you trick or treat in neighborhoods where the houses are spaced further apart requiring more walking or in an area that is hilly to get your heart rate up? Can you host a Halloween Dance party? Can you go on walks before Halloween to check out all the cool festive house decorations? Head to the large Haunted Houses that require a good amount of walking and exploring. Plus getting scared gets your heart pumping and your blood flowing which is a positive response!
Also, sign up right here on my blog to receive my FREE 20 min streaming video where I reveal my top 5 revenue generating secrets.
This video WILL help you bring in more clients and more revenue.
Don't miss it!
Think Beyond Candy & Sugar: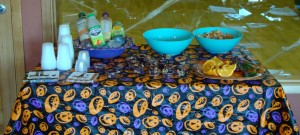 Offering healthier alternatives to candy may not make you the favorite Halloween house on your block or the 'most popular' parent but at least you can feel good about the fact that you're not sending your neighbors' kids into a sugar high! Head to the local Dollar or Discount stores and pick up some items that make for great treats AND promote a healthy and active lifestyle such as…
Ball
Skipping rope
Chalk
Hacky sack
Foam airplanes
Or try some fun prizes that aren't candy or food items…
Halloween pencils, pens, crayons, paint brushes or markers
Spooky stickers
Halloween tattoos
Spider rings.
Small toys and games
Glow sticks
Jewelry
Halloween glasses
False teeth
Deck of cards
If you want to go with something edible, try these healthier options…
Energy bars
Snack packages of dried fruit, raisins, pretzels, nut and seeds
Trail mix
Beef or Turkey jerky
Hot chocolate or apple cider packets
Sugar-free gum
Ration It:
If you leave it up to the kids, they'll eat half and maybe even all their candy before bed-time on Halloween night!  Instead, sit down with their stash, and separate it into small sized snack pouches that limit how much candy they have per day.  Not that kids need candy every day but at least it's a start!  Explain to them clearly how much and when candy can be consumed.  For example, you may set limits that prevent candy intake before bed or in the morning before school.  But you may allow a small snack bag only after they eat their nutritious lunch.
Donate:
You can donate candy to shelters, the military and dentist offices will often trade in candy…Kids just don't need as much candy as they collect so decide what is special that they will keep and what they can donate.
Make a Deal:
Is there something your kids want more than candy? For example, they may trade their candy in (or half of it) for a special toy or a trip to G6 or The Source Rockclimbing Gym. Maybe they need some new sneakers, clothes or just a chance to stay up later or do something cool and fun with their friends. FYI, cash always seems to be easy to trade for.  You can try a system by which friends and family pay for each sweet treat they "sell" you, and let them "earn" money for a toy or game they want to buy. Reward your kids for making good decisions!
The goal of kids during Halloween is to collect as much candy as they can for their stash, and it's our job as parents to make sure they enjoy the holiday without losing complete control of healthy behaviors. In Oregon & Washington, about 25% percent of kids are overweight or at risk for becoming overweight and this number is increasing every year.  The last thing our kids need is more sugar and a candy binge!  By following a few proactive tips, we can still promote moderation and healthy nutrition without coming off as the world's worst parents/personal trainers and the Halloween Grinch!
Yours in Health, Fitness & Business,
Sherri McMillan
Choose from TONS of different sessions.
Mingle with Pacific Northwest Fit Pros.
Lunch included.
No high travel fees.
New, relevant & immediately usable info.
0.8 ACE, NASM & NSCA CECs/CEUs
NOW IS THE TIME TO TAKE YOUR FITNESS BUSINESS TO THE NEXT LEVEL, AND WRITE IT OFF ON YOUR 2016 TAX RETURN!
Did you know that I wrote the ONLY complete training business  system designed to help you run a million dollar personal training business?! You can have this same business system that will help you work SMARTER and generate HUGE profits like we do here at Northwest Personal Training. The fee to purchase the Business of Personal Training System can be made up within 1 month of increased PT sales and there are NO recurring franchise or licensing fees. A comparable business system in other industries would require an initial investment of tens of thousands of dollars.  
Buy now and catapult your PT business to a new level and get a tax write off for your 2016 tax return! 
Posted in nutrition by Sherri | 20 Comments