Achieving goals and dream life….step one!
Last week I gave you ideas on how to help your clients find motivation. Now it is time to give them the specifics on how to achieve their goals and ultimately live their dream life.
Working in the fitness industry for 25 years, I've noticed that there are certain things that those who are successful at achieving their goals do on a regular basis. I've narrowed it down to the top 10 Tips and will share those tips over the next few weeks that I hope you will share your clients. These tips will prepare them successfully launch their 2014 year – potentially the best year of their lives! 
Early in my career I used to get so frustrated if a client wouldn't do what I knew they needed to do to achieve the results they wanted.  I used to bang my head against the wall trying to figure out how to motivate them.  Then one day, I was on a hike with my daughter Brianna and I learned my biggest lesson about goals and dreams.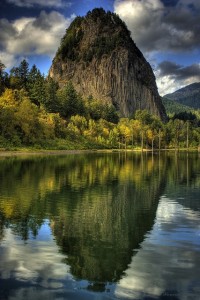 We had just hiked Beacon Rock in WashingtonState, a beautiful scenic hike with amazing views of the Gorge and the Columbia River.  I was getting my daughter situated in her car seat when a pick up truck pulled up beside us and two women jumped out to have a smoke.  They each lit their cigarettes and then one looked towards the top of the rock that we had just climbed and stated "You know, people actually hike to the top of that rock!"  The other gal took a long drag on her cigarette, looked up and then exclaimed "Why in the world would anyone ever want to do that?!"
My jaw dropped.  I couldn't believe she had just said that!  I thought she would say something like "Gosh, I wish I was in good enough shape to do something like that!" or "I would love to do that" or "Maybe one day I will be able to do that!" But she had no desire, no interest for ever hiking to the top of that rock. And without any will, there is no way. So no matter what I said or programmed or suggested, nothing I could do would ever convince her to summit that rock.  There was no compelling reason for her!
So it taught me that I have to help people figure out their 'why?'  Once there is a will, there is way.  But without a compelling force, success is so much more difficult.  The motivation and inspiration to stick to your program or your goals is within you.  You have just got to find the right reason – the reason that will make you so emotionally charged that you will take action, make the changes and stick to them regularly – no matter what!
Read the rest of Give Clients Their Dream Life – Step One