Hopefully you are all seeing an increase in the number of potential new clients that are walking through your doors this month!
We certainly are and we feel very prepared to meet with these potential new clients because we have a specific way that we bring clients through a first session that will help them make a commitment to their health and fitness….and to US!
Today, I want to share with you a couple different videos that will help you understand the importance of having a sales plan for both you and your staff. This sales plan should include a step by step process to bring folks through a first session and a resource tool to show that you are ready to help them achieve the results they desire!
The truth is you MUST have a systematic approach that you know works.  I created a system that we use every time we bring a prospective new client through a first session with us.  It is tried and true.  Even though all of our trainers have different personalities and styles, 80% or more of our prospective clients sign up with is!  Having a system like this in place also helps trainers feel confident in a situation that many of them don't like…SALES! (Make or Break Your 1st Session with a Prospective Client eViedo.")
Take a peak at this quick 4 min video that I created where I give you some of my favorite tips to conducting a successful first session with a prospective client:
It is also extremely important to have a resource tool we to show potential new clients that you have a proven plan to how they will get results when they work with you! Watch this 5 min video where I walk you through how we use our Fitness Results Manual to do just that. The good news? You can HAVE the same tool. It is totally custimizable and ready to use. Change our name to your name and our logo to your logo and you are ready to use it NOW!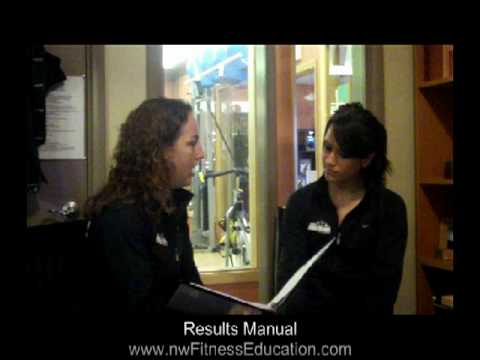 The combination of having a systematic approach to your first session with a new client and having a resource tool that shows them how they will get results…allows us to close 80% of sales with new clients. Give this one/two punch a try during this busy season and let me know about your successes!
Automatically get $100 off the Fitness Results Manual through the month of January!
Yours in health, fitness & business,
Sherri McMillan 
Hey did you know that I wrote the ONLY complete training business  system designed to help you run a million dollar personal training business?!  You can have this same business system that will help you work SMARTER and generate HUGE profits like we do here at Northwest Personal Training. 
The fee to purchase the Business of Personal Training System can be made up within 1 month of increased PT sales and there are NO recurring franchise or licensing fees.  
A comparable business system in other industries would require an initial investment of tens of thousands of dollars.  
DON'T REINVENT THE WHEEL!  Let us give YOU the systems that we know will work.

Click Here to like us on Facebook and get FREE Instant Access to my "Making Money with Small Group Training" Webinar
Also, sign up right here on my blog to receive my FREE 20 min streaming video where I reveal my top 5 revenue generating secrets. This video WILL help you bring in more clients and more revenue.  Don't miss it!