Fit Pros…this is a blog post that I wrote for our client blog a couple weeks ago. I have received great feedback and support from this blog post so I thought I would pass it on to you and hopefully you will pass it on to your clients. Such an important message!
"Moms, Be careful what you say around your daughters!
I heard a conversation at a pool that went something like this. A young girl asked her mother why she wasn't swimming. The mother responded that she was too fat and needed to lose a lot of weight before she could even consider wearing a bathing suit. Wow! What kind of a message do you think that mother was sending to her daughter? The daughter could easily interpret that response to mean that a woman must be skinny in order to do the things she wants to do. She must be thin in order to be beautiful enough to be seen in public. She must be lean in order to be loved.
Do you realize that girls as young as 5 years are dieting?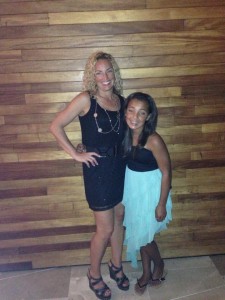 Where do you think they are getting the idea for the need to diet and lose weight? Sure media plays a big role but it's a lot closer to home than that! A young girl's mother is her most important role model. Values, principles and beliefs are instilled at such a young age and last a lifetime. If a young girl believes you have to be skin and bones to be attractive, she will struggle with her weight and body image for the rest of her life. Moms, think before you speak. Read the rest of Share With Your Clients – Info About Their Daughters!