Are your clients giving you excuses about not being able to exercise this summer? Vacations, kids at home etc.? Give them this 10 min equipment free workout to do when they aren't working with you. No more room for excuses!
Complete each of these 3 exercises for one minute each with a 30 second rest at the end of each of the 3 exercises. Then do it again 2 more times for a total of 10 minutes. Remember to take a few minutes to warm-up and cool-down. We can all commit to 10 minutes to focus on our health and fitness. And if you focus for 10 minutes, you'll be surprised at what a fabulous workout it can be! Follow along with this series and you'll get a number of 10 minute QuickFix options so that you can mix it up and do a different set each time!
10 Minute Equipment Free Workout:
Warmup first.
Skipping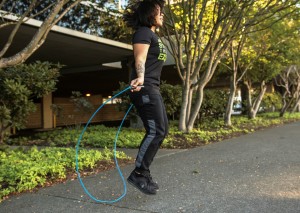 Imagine you are holding a skipping rope and skip for 1 minute. Bonus if you complete with an actual skipping rope! Feel free to keep it low impact and instead of jumping, just walk your feet quickly on the spot while moving your arms as if you are holding a jump rope.
Read the rest of 10 Min Equipment Free Workout