Dec, 18, 2018
7 Must Haves For Fitness Business Success
I have written on numerous topics in this blog related to running a highly successful and profitable personal training business, and today I want to help you take a step back and review the big picture. Whether you are just starting out or if you have been at it for years, these are the….
……Simple yet important aspects you MUST have to be successful and profitable!
Have the belief that there is a potential to be extremely successful and profitable in the Personal Training industry and YOU can do it!
Vision and imagination – as a leader you are able see more than what others can see and see the potential that others may not see!
Have goals established for your business – be as detailed as possible so you can create and follow your map to success.
Have Mentors/Consultants that You can rely on – from within the industry, business people outside the industry etc.  Learn from others!
Create YOUR Brand – who are you as a business? what is your competitive advantage? What do you do that others can't?
Have The Ability to Manage Change – you need to be OK with change and you need to teach your team to be OK with change.
Make The Commitment – opening and running a business is a HUGE time, energy and financial commitment.  This commitment must be part of your mindset so that you are ready to make it through the hard times and come out on the other side as a successful Fitness Business Owner!
Stay tuned…next week I will tell you what you need in place on the operations side of things. VERY important stuff.
Watch this 3 min video where I expand on these ideas.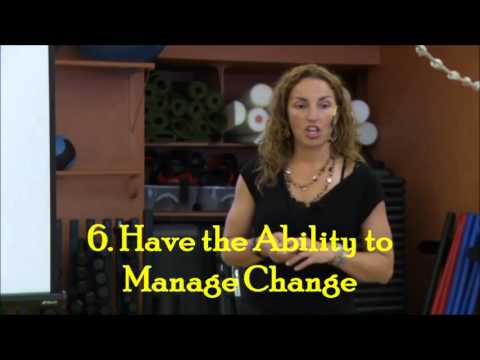 Remember, these are the 7 most important "Big Picture" things I believe every fitness business/personal training business owner/manager must have in place to be successful and profitable. Take a look at your business and be truthful. Do you have these 7 things?
Like what you saw in this video and want more? Good news! I recorded 10 hours of DVD quality video where I walk you through what you really need to know about opening or running a personal training business. 
How to and when to open a Personal Training Studio
Important information about financing a Personal Training Studio
Developing Leadership Skills
Creating and maintaining Marketing Plans
Ready to use Sales Systems
How we Retain Clients
Building an exceptional Customer Service team
The value of multiple Profit Centers
All the handouts to go along with the video!
If you love the DVD Series so much that you want to purchase the full Business of Personal Training System….we will put the full price of the DVD Series toward your purchase of the Business of Personal Training System.
Go HERE for more info and to purchase.  Have questions before purchasing?Email mollym@nwpersonaltraining.com
Get these systems now to ensure a successful 2019 and write the cost of on your 2018 taxes!
Yours in health, fitness & business,
Sherri McMillan
---
Get information like this and everything you need to run a successful fitness business with the same system I wrote and use at our facilities every day…..
Hey did you know that I wrote the ONLY complete training business  system designed to help you run a million dollar personal training business?! You can have this same business system that will help you work SMARTER and generate HUGE profits like we do here at Northwest Personal Training. The fee to purchase the Business of Personal Training System can be made up within 1 month of increased PT sales and there are NO recurring franchise or licensing fees.A comparable business system in other industries would require an initial investment of tens of thousands of dollars.  
DON'T REINVENT THE WHEEL!
---
Posted in business of personal training, business success by Sherri | No Comments Yet