Apr, 20, 2017
Weight Loss Challenge Encouragement
W
e have officially kicked off our
Spring Makeover/Weight Loss Challenge!
Recent tips I have given you for running a weight loss challenge:
Now that we have our teams set and are well on our way to weight loss…it is time for our trainers to motivate their teams! Keep your weight loss challenge participants engaged and excited with regular email, face to face and team communication. 
Also, sign up right here on my blog to receive my FREE 20 min streaming video where I reveal my
top 5 revenue generating secrets.
Spring Makeover Challenge – Day 1 Email:
We hope Day One is going great for you.
So are you planning on working out today? The answer should always be YES! Perhaps you've already been able to check that off your list!
What other positive action steps have you been able to adhere to? By now, you should have had breakfast, a small snack and lunch. Remember that people who are successful at permanent weight loss are organized and plan their meals and shopping trips. So if you haven't done so yet, get to the grocery store and pick up a ton of healthy fruits and vegetables. This will be a big staple of your nutrition plan!
Oh yeah – and how is your water intake? Take a big drink of water right now. Do you have a water bottle at your desk or work station? The more water you drink, the more you'll enjoy drinking water.
Have you had a chance to check out www.sparkpeople.com? It's a very easy way to plan your caloric intake everyday and to track your nutrition. Try it out and let me know how it goes.
In the beginning, a lot of these initiatives will feel like a big chore. But eventually, they will just become part of your lifestyle and you won't have to think about it as much.
If you are consistent this week, you can expect to lose at least 2 pounds this next week. And because you're doing it right, it will be 2 pounds of fat – not muscle!
Remind yourself throughout the next six weeks that it says a lot about who you are as a person when you invest the time to take care of yourself. It says you respect and love yourself enough to do the things necessary for you to be at your personal best. Each time you workout on a day when you just don't feel like exercising, you grow a little stronger as a human being. Each time you get up early to workout when you just feel like staying under the warm, cozy covers, you strengthen your character. When you complete an exercise session, it enables you to persevere through any other challenge in your life. Working on improving your physical conditioning will not only enrich your life and make you a better person, you'll also become a better parent, a better spouse, a better and more productive worker, and a better friend.
Exercising regularly, eating well and taking the time to relax and nourish your body will make you feel happier. It will provide you with more energy than you have ever known. It will give you greater stamina, mental toughness and make you a clearer, stronger thinker. It will make you more patient and loving. There are 168 hours in a week. Surely each and every one of us regardless of our hectic schedules can carve out six of them to care for our bodies and health!
The greatest irony of our physical life is that when we are young, we are willing to sacrifice every bit of our health for wealth, and when we grow old, we are willing to sacrifice so much of our wealth for just one day of health.
Don't let this happen to you. The little things in life are actually the big things and the quality of success that you will experience in your life ultimately depends upon the tiny choices you make every minute of every hour of every day. It's the small daily acts and habits that define how big we end up living.
Looking Good, Feeling Great & Living Life to the Fullest!
Yours in health, fitness & business,
Sherri McMillan
One of the reasons our Spring Makeover Challenge (Yearly Weight Loss Challenge) is so successful is because we offer and use the Fitness Results Manual as the main resource for participants. This is a 100 page resource tool that walks participants through the importance of cardio, strength training, nutrition and more. There is a 6 week plan that both trainers and the participants follow to ensure they are reviewing all the material.
This is a resource tool we use for this Spring Makeover Challenge, we give it to new clients, use it for corporate wellness programs and so much more! You can learn more from this quick video I shot where I review the Fitness Results Manual: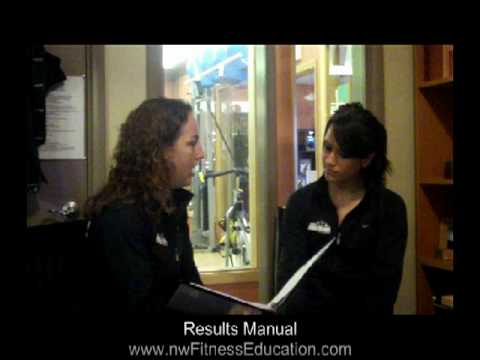 We sell this resource to fitness professionals like you to use in your own business. Change our name to your name and our logo to your logo and run with it! During the month of April you will get an automatic %25 off ($124 savings) the Fitness Results Manual! Now you have the information you need to run a super successful makeover challenge and the resource tool you need can be yours too! Don't hesitate. 
Like what you see here? Want more info, more details and more forms for your business? The Business of Personal Training System is for you! I give you the exact system that I use everyday at our small 5,000 sq. foot Personal Training studio.
Did you know that I wrote the ONLY complete training business  system designed to help you run a million dollar personal training business?! You can have this same business system that will help you work SMARTER and generate HUGE profits like we do here at Northwest Personal Training. The fee to purchase the Business of Personal Training System can be made up within 1 month of increased PT sales and there are NO recurring franchise or licensing fees. A comparable business system in other industries would require an initial investment of tens of thousands of dollars.  
Buy now and catapult your PT business to a new level.
Posted in Marketing, results by Sherri | No Comments Yet