Sep, 12, 2012
Foundation For Fitness Marketing Success: Know Your Business!
In last week's blog post I walked you through the importance of knowing yourself before creating a marketing plan and, ultimately, a very successful business.  Now it is time to give you a quick look at the second step to setting up a foundation for fitness marketing success!
You MUST KNOW YOUR BUSINESS!  It can be tough to dig deep to really understand the ins and outs of your business, but it is the only way you will be able to create a marketing plan that will take your business to the next level.  Be true to yourself and your business and great things will happen!
Here are the questions you need to be able to answer about your business before creating your marketing plan:
Where is your business now?  Do a business goals and SWOT Analysis Click

HERE

 to see an example of our SWOT Analysis from when we first opened (what are your strengths, weaknesses, opportunities and threats?)
How long have you been in business?
How does your business function?
How many clients do you have?
What types of clients do you have?
How many staff work at your business?
Do you provide low-end or high-end training prices?
Where do you want your business to be? Be specific!
How are you going to get there?
Take a look at this quick video where I walk you through these same steps!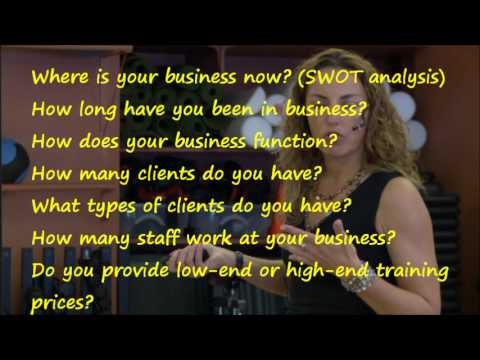 If you take the time to write down and understand the answers to each of these questions your marketing plan will be that much easier to create and a great marketing plan means lots of new faces walking through your doors!
Yours in Health, Fitness & Business
Sherri McMillan
Want to start building your marketing plan for 2013 and don't know where to start?
You are in luck!  I have authorized a 20% discount on our Business of Personal Training Marketing System (scroll all the way to the bottom of the page!) where I walk you through (step-by-step) how to create your very own marketing plan that will fit you and your business to a T.  There is no time to waste!  Make sure you are set up to see tons of new potential clients walking through your doors!
Enter promo code: Marketing20 at check out
Email info@nwfitnesseducation.com if you have questions or for a free demo
If you decide you like the Marketing System so much that you want the full Business of Personal Training System…we will put the full purchase price of the Marketing System towards your purchase of the Business of Personal Training System! 

Click Here to like us on Facebook and get FREE Instant Access to Sherri's "Making Money with Small Group Training" Webinar
Don't forget to sign up to receive my blog posts in your inbox
Just enter your name and email in the form up here
Posted in business success by Sherri | No Comments Yet